Welcome to Canopy Cleaning Perth
Welcome to Canopy Cleaning Perth, your trusted partner in maintaining clean and hygienic commercial kitchens. With years of experience and a team of highly skilled professionals, we offer top-notch canopy cleaning services in Perth and its surrounding areas. Whether you own a restaurant, hotel, or any other food establishment, our dedicated team is here to ensure that your kitchen remains free from grease buildup and potential fire hazards. Trust us to deliver exceptional results that meet and exceed industry standards.
Why Choose Canopy Cleaning Perth?
Industry Expertise: Our team consists of trained and certified professionals who have extensive knowledge and experience in canopy cleaning. We stay up to date with the latest industry regulations and use the most effective techniques and tools to deliver outstanding results.
Comprehensive Cleaning: At Canopy Cleaning Perth, we understand that a thorough cleaning is essential for maintaining a safe and hygienic kitchen environment. Our services include the cleaning of canopy hoods, filters, exhaust fans, ducts, and other critical components. We leave no stone unturned to ensure that every nook and cranny is free from grease and debris.
Fire Safety Compliance: Grease buildup in kitchen exhaust systems can pose a significant fire hazard. By choosing Canopy Cleaning Perth, you can rest assured that your kitchen will meet fire safety compliance standards. Our meticulous cleaning process eliminates grease buildup and reduces the risk of fire, protecting your staff, customers, and property.
Tailored Solutions: We understand that every kitchen is unique, and each establishment has its own specific requirements. Our team works closely with you to develop a customized cleaning plan that addresses your specific needs. Whether you require one-time cleaning or regular maintenance, we have flexible solutions to accommodate your schedule and budget.
State-of-the-Art Equipment: To deliver exceptional results, we utilize advanced equipment and tools that are designed specifically for canopy cleaning. Our high-pressure cleaning systems, combined with eco-friendly cleaning agents, ensure that even the toughest grease stains are removed efficiently without causing harm to the environment.
Reliable and Efficient: We value your time and strive to provide prompt and efficient service. Our team arrives on schedule and completes the cleaning process in a timely manner, causing minimal disruption to your daily operations. We are committed to delivering exceptional service that exceeds your expectations.
Our Canopy Cleaning Process
Inspection: Our team begins by inspecting your kitchen exhaust system thoroughly. This helps us identify areas that require immediate attention and determine the level of cleaning required.
Preparation: We take necessary precautions to protect your kitchen equipment and surrounding areas from any potential damage during the cleaning process. Our team covers sensitive equipment, flooring, and countertops to ensure they remain unaffected.
Cleaning: Using our specialized equipment, we perform a comprehensive cleaning of canopy hoods, filters, exhaust fans, and ducts. We employ effective techniques to remove grease and stubborn stains, leaving your kitchen spotless and fresh.
Grease Containment: We employ industry-approved methods to collect and dispose of the removed grease properly. Our team ensures that your premises remain clean and free from any residual grease or debris.
Final Inspection: After completing the cleaning process, we conduct a final inspection to ensure that every component of your kitchen exhaust system is thoroughly cleaned and functioning optimally.
Detailed Reporting: We provide you with a comprehensive report that outlines the work performed and any recommendations for future maintenance. Our team is always available to answer any questions or provide further assistance.
When it comes to canopy cleaning in Perth, Canopy Cleaning Perth is the name you can trust. We take pride in our exceptional service quality, attention to detail, and commitment to customer satisfaction. Join our list of satisfied clients and experience the difference that our professional canopy cleaning services can make for your commercial kitchen. Contact us today to book your service and let us ensure that your kitchen remains clean, safe, and compliant with all relevant regulations.
At BCM Canopy Cleaning Perth, we offer a comprehensive range of services to meet all your canopy cleaning needs. Our services include:
• Canopy Hood Cleaning
• Filter Cleaning and Replacement
• Exhaust Fan Cleaning
• Duct Cleaning
• Kitchen Exhaust System Cleaning
• Grease Trap Cleaning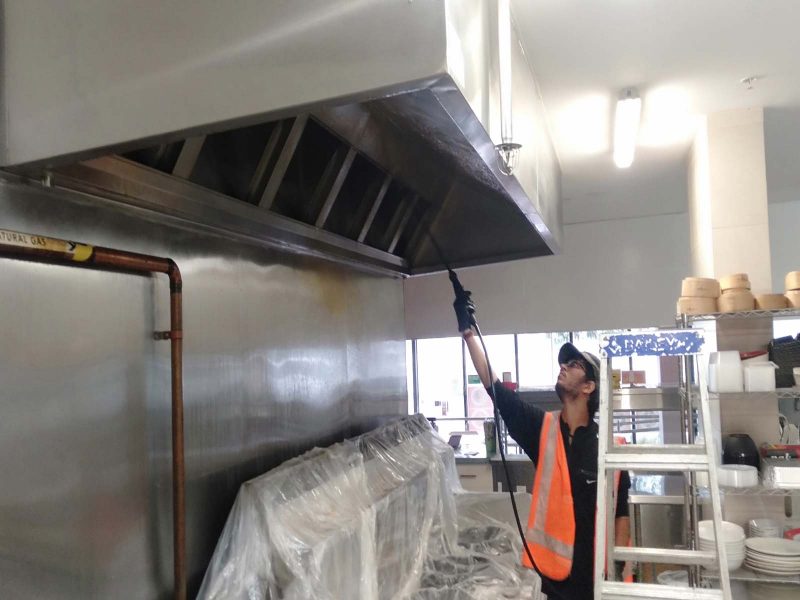 Frequently Asked Questions (FAQs)
How often should I get my canopy cleaned?
Regular cleaning is crucial to maintain a safe and hygienic kitchen. We recommend getting your canopy cleaned at least once every six months. However, depending on the usage and cooking methods in your kitchen, more frequent cleaning may be necessary. Our team can assess your specific requirements and provide tailored recommendations.
How long does the canopy cleaning process take?
The duration of the cleaning process depends on various factors, such as the size of your kitchen, the level of grease buildup, and the complexity of the exhaust system. On average, our team completes the cleaning process within a few hours. We strive to work efficiently while causing minimal disruption to your operations.
Is your cleaning process environmentally friendly?
Yes, at Canopy Cleaning Perth, we prioritize environmental sustainability. We use eco-friendly cleaning agents and follow best practices to minimize any negative impact on the environment. Our team is committed to delivering exceptional results while maintaining responsible and sustainable cleaning practices.
Can you provide a customized cleaning schedule for my establishment?
Absolutely! We understand that different establishments have varying cleaning requirements. Our team can work with you to create a customized cleaning schedule that fits your specific needs. Whether you need one-time cleaning or regular maintenance, we have flexible solutions to accommodate your schedule and preferences.
Are your technicians trained and certified?
Yes, all our technicians are highly trained and certified professionals. They undergo rigorous training to ensure they have the necessary skills and knowledge to perform canopy cleaning to the highest standards. Our team stays updated with the latest industry regulations and best practices to provide you with exceptional service.
Contact Us Today for Canopy Cleaning Perth
Experience the expertise and professionalism of Canopy Cleaning Perth today. Contact our friendly team to schedule your canopy cleaning service and ensure the cleanliness and safety of your commercial kitchen. We look forward to serving you and exceeding your expectations.